Next stop in Amsterdam: MUD Jeans. I already saw their lookbook lying around at LENA when I visited the girls for an interview. And do you remember Astrid from Conscious Hotels who told me that they are going to open another hotel at Westergasfabriek?
That's exactly where I am meeting Danique from MUD Jeans who has her working place at the Impact Hub right there. So it feels a bit like being in the "circle of sustainability" :) First we make some tea before we sit down on the retro chairs to talk about the unique concept of leasing jeans.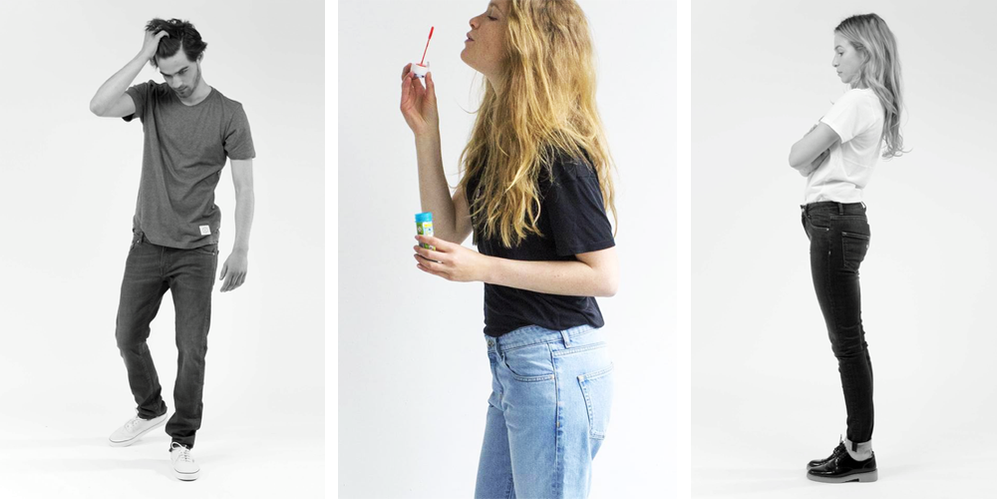 Danique, for those who wonder: How does the leasing model work?
When you do lease your jeans for the first time, you pay 25€ subscription fee. After that there is a 7,50€ rate per month. After twelve months there are several options:
You keep your jeans. There are completely yours now.
You give them back to us and we care about their further "living".
You swap them for a new pair of jeans and go on paying 7,50€ a month.
What happens to the jeans that are returned?
If they are still ok, we'll sell them as vintage jeans. If they are broken, we'll recycle them and use the fibers for either a new pair of jeans or for the production of sweaters. It's about not throwing things away after a certain lifetime but to repair, recycle and reuse them.
But that is not the only thing you are doing differently…
True. Our jeans are produced in Italy and are Fair Wear certified. In addition, the circuit is important to us. Our jeans are designed in a way that makes recycling easier. Instead of the classic leather label we print labels directly on the jeans. Additionally we use GOTS- and BCI-certified cotton. Another big problem is the immense water consumption during the production. To solve this, new high-tech-filter-systems are used in our factories. They filter 85-90% of the water that can then be reused afterwards. 
To add the "used look" , we use a laser technique, which drastically reduces the amount of water and chemicals used. Here you'll find all of our actions.
In order to establish this new type of jeans production, you surely have to invest a lot of time in research…
Not only in research. More sustainable production requires a large financial investment, for example for the laser-technique that I have just mentioned. And of course it also takes courage to establish such new ways in the hope that other companies will make use of it, so that it'll pay off.
Does your innovative perspective inspire other companies to rethink their products as well? Do they contact you in order to get support?
Yes, there are some companies which approached us, because they also had the idea of a cycle, in which products are reused instead of ending up as garbage. These are not necessarily fashion companies. But they meet Bert to ask for advice. So yes, in a way we inspire some others :)
Is there a "typical MUD Jeans leaser"? I always think that it is the younger generation who is more open to new sustainable ideas.
Well, we thought leasing would make sustainable clothing affordable for everybody. But younger people have less money to spend. They think about sustainability, but they don't take action. So our target group is more likely between 28 and 48 years old. They also care about sustainability but earn a bit more money which they like to spend on eco-friendly and ethical goods. 
By the way, we have a lot of customers from Germany who really understand that clothes can be sustainable and fashionable at the same time. I got a feeling that Dutch people still need some time to get it.
(Danique's phone rings. She answers it.)
That was Dion Vijgeboom, our denim expert. He previously was working for G Star for ten years before he joined our team. He knows
all about denim. Since he is working with us, our jeans have become so much better. That's the great thing about a company like MUD Jeans: The team is working on the idea with so much passion. It's more about conviction.
Yes, it's cool to see how dedicated people can be to a brand because they identify themselves with the idea. Nevertheless, is there still a "need for optimization"? Things you want to do even better?
Yes. When we produce a new pair of jeans we can use 23% of an old pair. Technically it's not possible to use a higher percentage. For sweaters it's different: For them we can use 84% recycled denim. The more recycled denim we can use for a new pair of jeans, the better. At the Berlin ESMOD (International Academy of Fashion) they already research into solutions.
Normally it's my first question, this time it's my last one: What was Bert's motivation to found MUD Jeans?
When he was 23, he moved to China to work for the textile industry. Of course, he has seen all the crap that is happening there: People being on the breadline and unsafe factories with blocked emergency exits because owners fear the workers might steal things. Of course, much has been reported about Rana Plaza but actually there are still disasters every month due to the poor conditions. So he said: Let's do things differently. And let's do it with fun.
During this talk (10 minutes) you can listen to Bert himself telling the story of MUD Jeans.
Danique, thank you veeery much for your time and the tea :)
And people, next time you're thinking about a new pair of jeans, try MUD Jeans! With the Home Try you'll get three pairs send to your home to make sure you find the best fitting one. So: Ready, steady, lease! 😁